Posted on Fri Jun 28, 2019 3:32 pm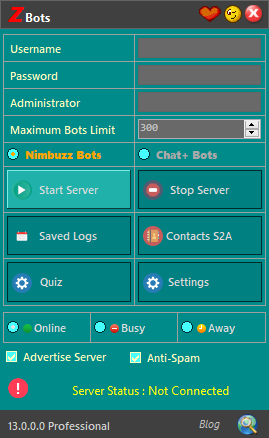 * Easy commands added for KICK,BAN,IPBAN
Now you can perform actions without typing full username of a user, instead you can enter half of it or matching letters to complete the operation automatically
.
 Eg : 'K JHO' will kick user JHON from room.
* Performance improvements, Fixed hang issue.
* Flood blocks improved.
:>  Use TOF-ZBOT@cp for  24*7 online server bots
Note : This software is encrypted by using an obfuscator to protect it from being cracked, If your antivirus treating it as a virus, then add this program into trusted list of your antivirus to resolve this issue. There is no stealing program attached in this software!
:> If you are already using any of the older zBot application please download updates File from the following link
   CLICK HERE TO DOWNLOAD
Code:

http://s9.picofile.com/d/8365005084/1238172d-181f-42a0-878d-33b877f74506/zBot.exe
:> If you are new to this , please download the full server bot application along with database from the below download link
  CLICK HERE TO DOWNLOAD
Code:

http://s8.picofile.com/d/8365005376/b7cffcb1-994d-4139-be84-4d5c897b20b3/zBot_Server_for_nimbuzz_and_chat_version_13_5.zip
THANK YOU !! ENJOY